Blockchain is the perfect choice for your Supply Chain management
The real-time tracking of a product in a supply chain with the help of blockchain technology reduces the overall cost of moving items in a supply chain. According to a survey conducted by APQC and the Digital Supply Chain Institute (DSCI), more than one-third of supply chain workers cited a reduction in costs as the topmost benefit of a blockchain  application in supply chain management.
Having trust in complex supply chains with many participants is necessary for smooth operations. The immutable nature of blockchain technology in the supply chain is well-designed to establish trust and prevent tampering of data. In the event of a defective product, the source of the problem can be identified more quickly – improving the efficiency of product recalls and dispute resolution between stakeholders.
Industrial App and Dashboard
Supply chains have many participants and scattered information in their paper registers and IT systems. It is often considered an expensive challenge to collect, analyze and share this information. SeafoodChain utilizes the UNISOT blockchain platform to enable easy, reliable data collection, analytics and secure sharing. SeafoodChain provides the following tools based on the UNISOT platform:
CONSUMER APP
Enables consumers to scan a QR code on a product to get information regarding its content, proof of journey, proof of origin, suggestions on suitable recipes, etc. The app opens for communication between consumers and manufacturers, who can get direct feedback from consumers on product quality. Manufacturers use this information to optimize manufacturing processes, increase quality and strengthening the customer's connection to the product.
HORECA APP
Designed for professional use with similar features as the Consumer App. Scanning of a QR code gives information about the content, proof of origin, proof of journey, etc. The app opens direct communication between Horeca and manufacturers, who receive feedback on product quality, etc. that the manufacturer can use to effectively optimize manufacturing and distribution processes.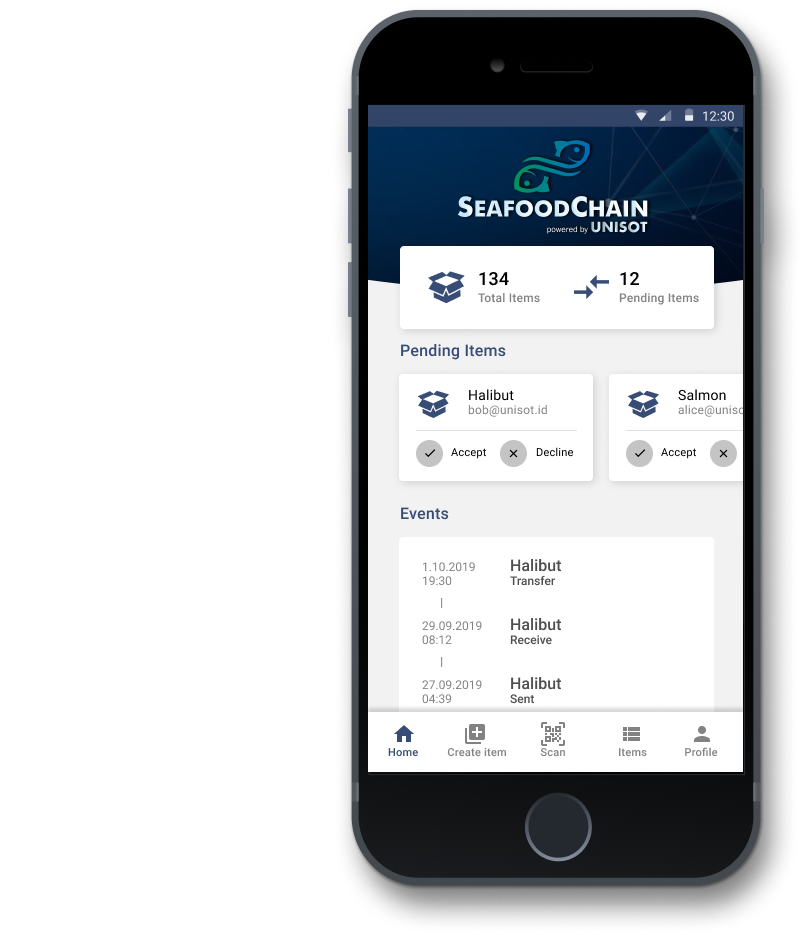 INDUSTRIAL APP
Intended for staff in factories and out in the fields for the collection of data that cannot be automatically registered by the use of IoT. The staff creates Smart Digital Twins on the blockchain – representing physical objects, i.e. a package of fish. Information like temperature, position, weight, etc. is recorded in the Smart Digital Twins. The app also includes a feature to easily transfer ownership of a product via its Smart Digital Twin as the product travels through the supply chain.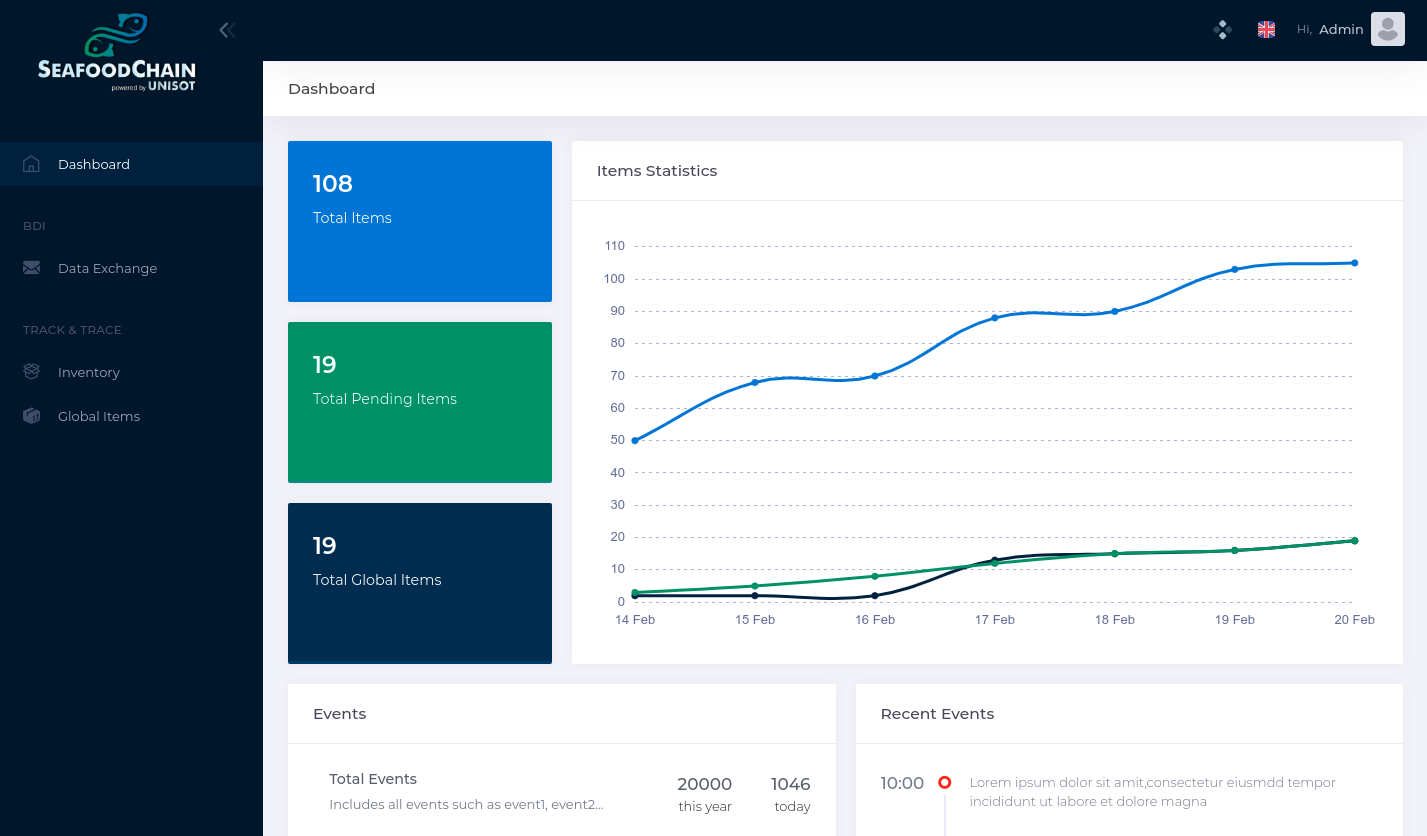 DASHBOARD
Used by the company's executive and administrative staff to obtain status updates, follow product streams and KPI's. The dashboard is also used to exchange, sell and buy information with other participants in the supply chain.

ERP PLUGIN
The Business System Plugin are software modules installed in a company's business system – enabling communication between the company's business processes and the UNISOT Node. The plugin makes the Blockchain functionality transparent to business users so that they can continue to use the system as normal to register & retrieve information, send & receive orders, invoices, etc.
Seafood supply chains can be anything from a fisherman catching fish in the sea or the DNA history of the fish eggs in a fish hatchery, throughout breeding, feeding, environmental conditions, harvesting, processing, distributing, retailing, preparing and recycling. The SeafoodChain system enables data-capturing and -monitoring from all parts of this supply chain; from a fisherman's smartphone app or the extraction of data from fish egg production plant – to automatic IoT sensors, Computer Vision, ERP-Plugins, Big Data Analytics and Machine Learning.

Fish Eggs
Important information about the DNA-pedigree and environmental conditions surrounding the fish eggs are stored in Smart Digital Twins on the blockchain. When a batch of eggs is sold and transferred to the Hatchery, the ownership of the Smart Digital Twin transfers accordingly.
Broodstock/Hatchery
The hatchery continues to add important information to the Smart Digital Twins such as transfer dates, fertilization data, water PH, nutrition and the relevant ecological circumstances.
Feeding/Breeding
At the breeding facilities information such as the type and amount of food, environmental conditions and mortality rates are collected and added to the Smart Digital Twin.
Growth
At the growth facilities information regarding weights, sizes, medical conditions, water temperatures and feeding events can now be stored on an individual fish level in the Smart Digital Twins.
Harvest
When the fish are harvested, information related to time, locations, weights, sizes, methods, etc. is registered in their corresponding Smart Digital Twins.
Process
At the fish butchery and in production plants, information about time, locations, processes, temperatures and energy consumptions are added to the Smart Digital Twins.
Transport
Cold chain management during transportation is critical for maintaining the quality and value of the products. Information such as temperatures, locations, times and energy consumptions are securely stored in the Smart Digital Twins directly from Smart IoT sensors and Industry Apps.
Retail/Consumption
In retail, Horeca and private consumption valuable information such as temperatures, methods, locations, taste and quality can be registered in Smart Digital Twins by Horeca Apps and Consumer Apps. This provides a real-time feedback loop back to producers enabling them to fine-tune their production methods to maximize quality and efficiency.
Recycling/Waste Management
To close the complete product life cycle, information regarding recycling, waste management and reuse can be stored in Smart Digital Twins to enable lifecycle-traceability, -management and smart reuse of resources and materials.
SeafoodChain Powered by UNISOT
SeafoodChain is using UNISOT Smart Digital Twins and Product DNA solutions with partners in the fishing industry to increase visibility, easily comply with legal regulations on data and information, as well as offer customers quality assurances.
Regulations
Today's seafood supply chains suffer from time-consuming processes like manual record-keeping – making the ecosystem prone to errors. Other issues that result in making the seafood supply chain inefficient are the improper food storage conditions or the lack of data capturing practices. Powered by UNISOT, SeafoodChain allows supply chain stakeholders to ensure products are compliant to legal regulations such as European regulations EC 1224/2009 and EC 404/2011 – regulations regarding the capturing and sharing of traceable information in the seafood industry.
Standards
The UNISOT system is based on proven industry standards such as GS1, ISO, UBL, etc. to comply with data capture requirements as well as offering flexibility to customers. These standards enable interoperability by allowing seamless product and information flow throughout the supply chain.