SUSTAINABLE SEAFOOD
IS A CHOICE
Our Solutions are secure, scalable and transparent
Today's consumers are becoming more conscious and regulators are getting more demanding. This requires more accurate and instant information regarding products.
SeafoodChain provides solutions for fish farming and aquaculture industries to record and display insights to their complete supply chain. Our solutions support this by delivering a fast, scalable and secure platform for global track and trace, environmentally friendly choices and product authenticity.
Want to know more about which advantages and benefits SeafoodChain could add to your company? Want to become our Partner and/or Ambassador? Let's connect so we can show you the why and the how!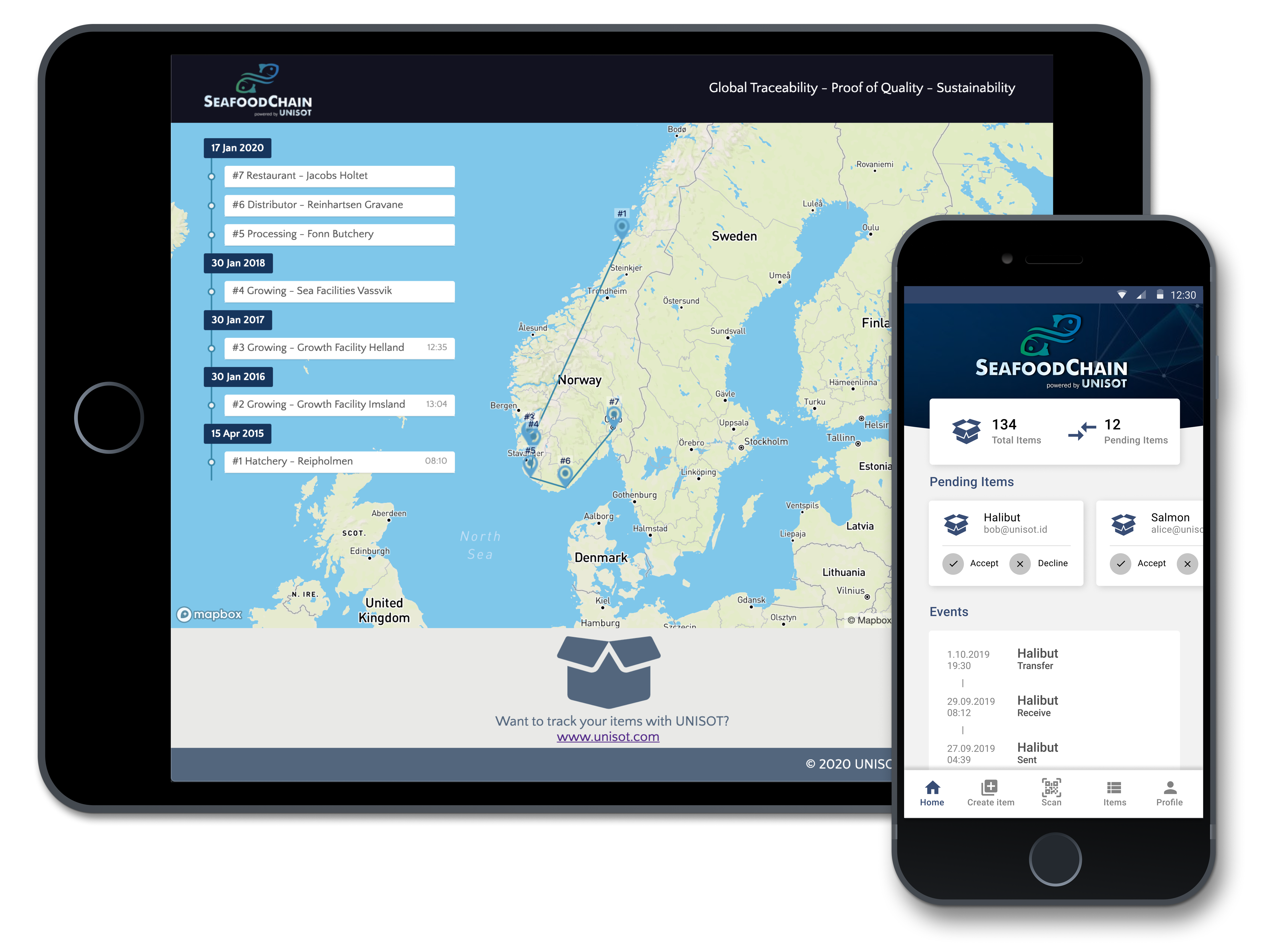 GLOBAL VISIBILITY AND TRACEABILITY
Smart Digital Twins and Product DNA solutions enable real-world products, assets and commodities to get a digital representation. This will allow both companies and consumers to track and trace products quickly and securely – from its inception to recycling.
PROOF OF QUALITY – PROOF OF ORIGIN
Our functionality provides a cost-effective and secure collaboration layer for businesses. Cross-company data can be shared and verified – presenting multiple tools for companies to provide proof and information that all partners in the supply chain are requiring, such as Proof of Authenticity, Product History, Provenance and Transparency.
FOOD SAFETY – EFFECTIVE RECALLS
The Product DNA functionality provides Digital Threads that verify a product's traceability through the whole product's lifecycle. In the case of a detected bad production batch, the producer can securely and instantly alert the affected partners in the supply chain, with detailed information about exactly what items to remove from the shelves and warehouses. This enables producers to exactly pinpoint the location of their product during its entire lifecycle and give them the tools to remove or recall products with an accurate precision.
SUSTAINABILITY – RECYCLING
Our solutions track products from the first raw product producers to the logistics, the production distribution and all the way to the end consumer. Each partner in the supply chain can provide and share detailed accurate information – leading to sustainable and eco-friendly choices. This results in minimizing waste and improves the use of valuable natural resources.
UNISOT is a revolutionary enterprise blockchain service provider built on over 20 years' experience in enterprise business integrations, aiming to change the future of global Supply Chains. It emerges from the well established business processes in Enterprise Resource Planning (ERP) systems – such as SAP S/4 HANA, MS Dynamics 365, M3, Oracle, Salesforce, Sage X3 and  IFS.
We enable enterprises of all sizes to leverage P2P blockchain benefits from within their current systems, making the instant product traceability during its product lifecycle secure and affordable.