SUSTAINABLE SEAFOOD
IS A CHOICE
PROVE YOUR STORY
FROM SEA TO PLATE
The SeafoodChain Platform enables your company
to prove to your customers and end-consumers;
That your products are Sustainable
The Origin & Provenance of your products
The Quality & Safety of your products
The Ingredients of your products
The Environmental impact of your products
That your products are Ethically sourced
Want to know more about which advantages and benefits SeafoodChain
could add to your company?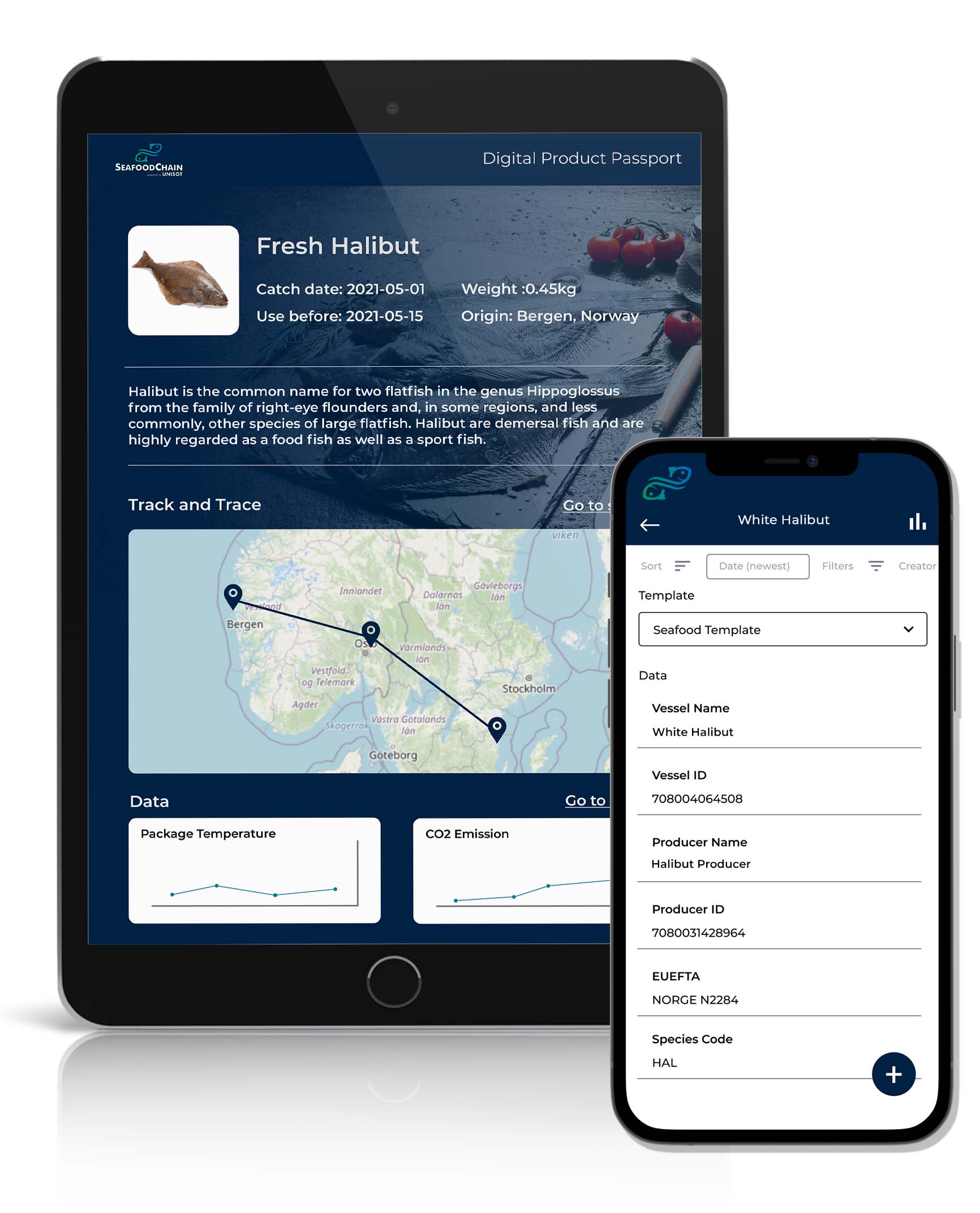 CONNECT WITH YOUR END-CONSUMERS: 
Monitor and manage your products' quality where it matters most; the end-consumers.

Build and maintain your brand recognition and strengthen your brand loyalty.

Get a communication channel that enables you to interact directly with your end-consumers and enable them to give you feedback about the quality of your products.  
GET INFORMATION FROM YOUR SUPPLIERS' SUPPLIERS:
Break free from your current information blinders with 1 tier up 1 tier down information limitations.

Subscribe to important events and information from your suppliers' suppliers.

Get notice in advance if a critical product or service is changed, delayed or rest noted, so that you can act accordingly and mitigate your own production efficiency and product quality.
NEW REGULATIONS
The upcoming EU legislations, FDA Blockchain-based Food Tracking rules, and UN recommendations, and the rising awareness of customers and end-consumers are contributing to the need for verified and detailed data from the complete supply chain. The SeafoodChain platform provides several tools to manage and conform to these new regulations.  
LIFE CYCLE ASSESSMENT
SeafoodChain's LCA module enables you and all related actors in your supply chain to register and prove important data points, creating a full end-to-end environmental trace. The LCA service provides you with all the required information you need for certifications like ASC/MSC, Global G.A.P, Debio, BRC, HACCP etc.
BIG DATA ANALYTICS
SeafoodChain's BDA module enables you to make analytics, simulations and predictions, effectively indicates where improvements can be made, such as helping increase production, adjust and thus improve the composition of the feed and its usage, alter and improve the use of by-products throughout, and streamline overall transport logistics, improving emissions and the transition to renewable energy sources. 
ENSURE FOOD SAFETY
The SeafoodChain 'Product DNA' functionality provides a Digital Thread that enables product traceability through the whole product's life cycle. This offers full control of your products' ingredients and elements, their quality, origin, provenance, locations, etc.
SURGICAL PRODUCT RECALLS
In the case of a detected bad production batch, you can securely and instantly alert the affected partners in the supply chain with detailed information about exactly what individual items are affected. Product Recalls enables you to exactly pinpoint the location of your products during their journey through the supply chain, and to recall or remove the affected products with surgical precision. 
RECYCLING AND WASTE MANAGEMENT 
Our solutions track products from the first raw producers to the logistics, the production distribution and all the way to the end-consumer. Each partner in the supply chain can provide and share detailed accurate information – leading to sustainable and eco-friendly choices. This  minimizes waste and improves the use of valuable natural resources.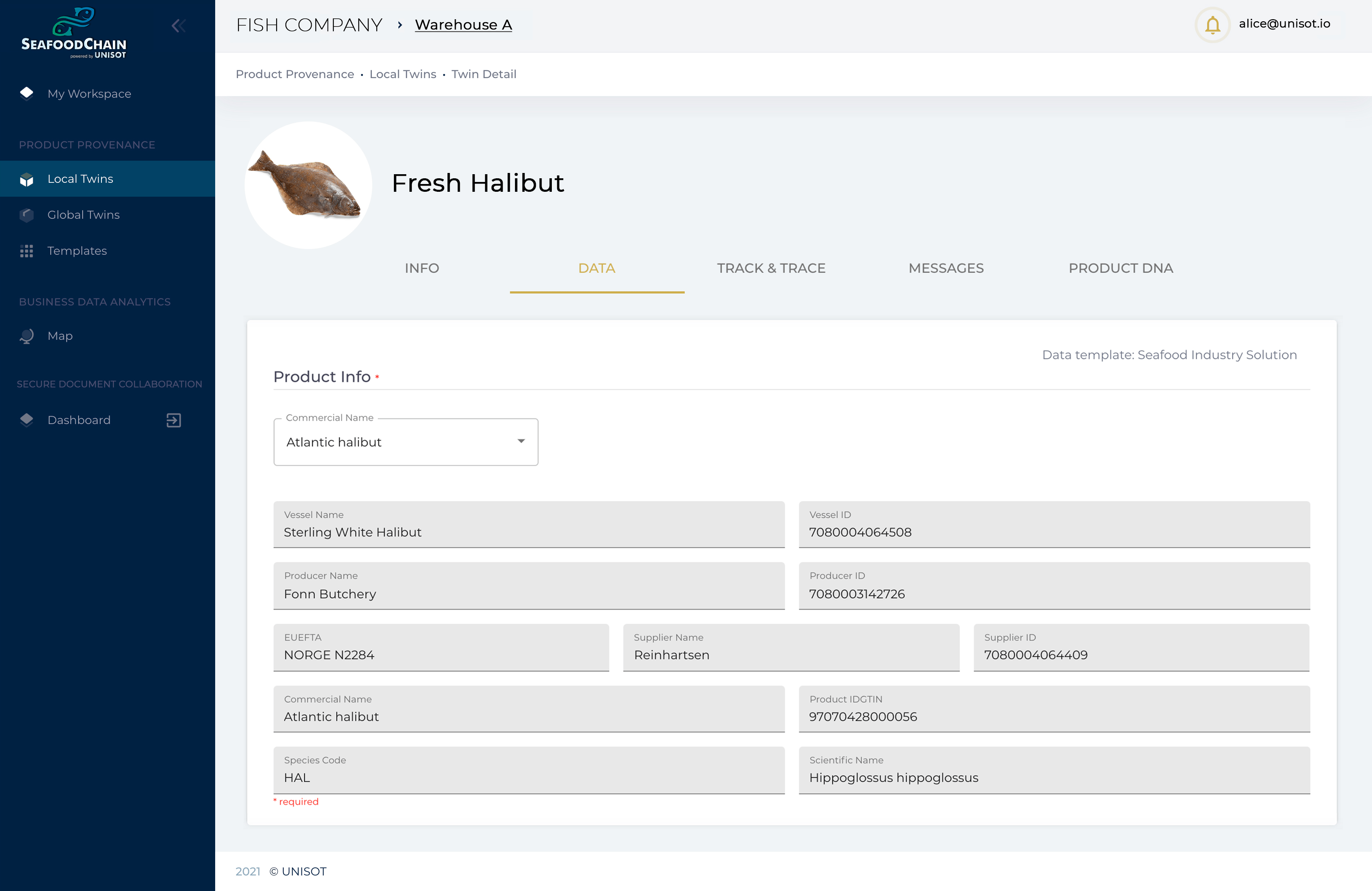 THE SEAFOODCHAIN PLATFORM
The SeafoodChain platform is specifically targeting the global Seafood Industry by providing industry specific functions, standards and data templates built on the UNISOT Blockchain Platform. The compliance to legislations and the increased focus on food safety and consumer awareness raises the need to adopt business practices and standards that will aid the seafood industry's ability to track and trace from Sea to Plate, throughout the global seafood supply chain.  
The SeafoodChain platform provides functions for seafood producers and distributors to prove Product Quality, Product Provenance, Product Sustainability and Food Security on an individual packet level, replacing the need for expensive and often ineffective quality certificates. 
GLOBAL STANDARDS
All parties in the seafood supply chain have a shared responsibility when it comes to ensuring traceability and compliance to new and extending regulatory requirements. Therefore, GS1 has developed Global Standard Guidelines to help the adoption of consistent business practices to effectively manage traceability for the seafood industry. SeafoodChain, powered by UNISOT, is a proud partner of GS1 and supports the GDST standards.
UNISOT is a revolutionary Enterprise Supply Chain Sustainability Platform as a Service built on over 20 years' experience in enterprise business integrations, aiming to change the future of global Supply Chains. It emerges from the well-established business processes in Enterprise Resource Planning (ERP) systems – such as SAP S/4 HANA, MS Dynamics 365, M3, Oracle, Salesforce, Sage X3 and IFS.
We enable enterprises of all sizes to leverage public Blockchain benefits from within their current systems, making the instant product traceability during its product's life cycle secure and affordable.