Ostrea Aquaculture Implements SeafoodChain for Food Traceability
Ostrea Aquaculture AB, based in Sweden, is on a mission to reinforce the population of the near-extinct original European Ostrea Edulis, commonly known as the European flat oyster and to meet growing customer demands for sustainable grown oysters. Their production facility on Koster Island, situated on the west coast of Sweden, is unique in its approach to breading oysters, using fresh, cold and clean Atlantic seawater from a location far out at sea.  
By utilizing SeafoodChain's Digital Product Passport, Ostrea can verify its premium oyster quality, trace its origin and provenance, meet regulatory requirements easily, and showcase the company's history. The platform will also enable direct feedback from consumers who enjoy their oysters. 
Optimizing oyster cultivation through expert collaboration and specialized facilities 
Cultivation of oysters from larvae to adults involves several stages, and the Ostrea facility has been adapted to optimize the conditions during their complex development. Ostrea's cultivation system is built on a world leading innovation for the large-scale cultivation of microalgae and oysters. The system includes a land-based facility for microalgae and oyster fry cultivation in the sea.  
Advanced water technology purifies, circulates, and adjusts water chemistry and temperature. Seawater is pumped into the facility from 8m, 40m and 87m deep in the Kosterfjord, treated in several stages and stored in reservoirs for distribution to various processes.  
The facility employs advanced techniques to ensure optimal growth and reproduction of the oysters. As a result, the company can supply high-quality oysters to the market while contributing to the preservation of a near-extinct species.  
From January to July, they hatch and raise flat oyster fry to 5mm in a land-based hatchery, then grow them to 10-15mm in their sea-based facility (FLUPSY) before transferring to baskets for further growth in sea farms. Spats are sold in market-demanded sizes up to 20mm.  
Utilizing SeafoodChain's solutions and the Digital Product Passport for sustainable aquaculture practices
Ostrea is required to register every step of their harvesting process and report every new growth location of their oysters to the Swedish Food Agency.  They also need to build connections with consumers, proving the quality of the oysters they are buying through transparency on the origin, provenance, and cultivation process.  
Ostrea identified UNISOT's SeafoodChain solution to help them with these challenges. UNISOT's blockchain-powered track and trace solution brings the traceability and transparency that Ostrea needs by providing Digital Product Passports (DPP).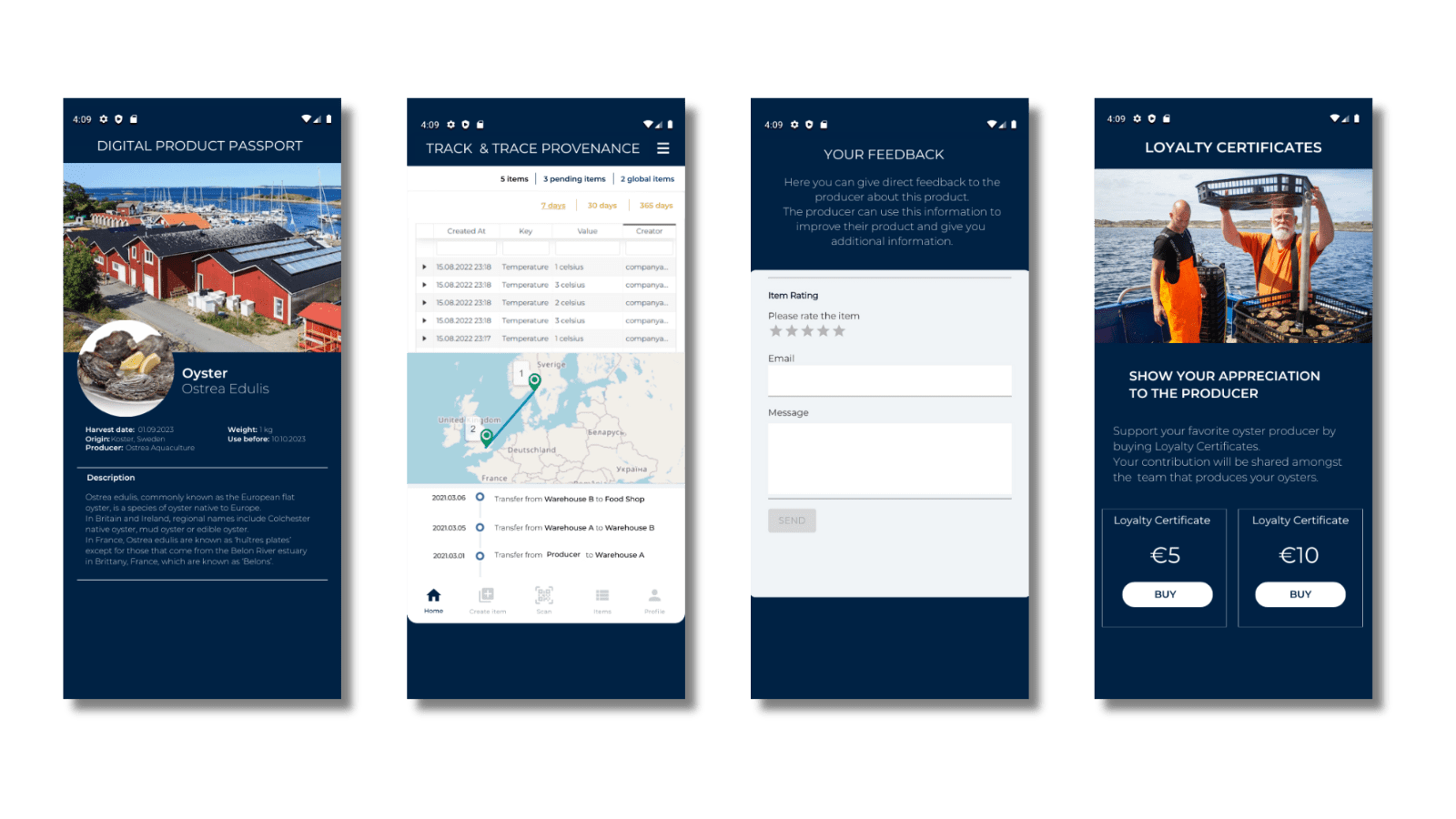 Using digital twin technology, the DPP holds information on each oyster from larvae cultivation and breeding to the growth of microalgae as a feed source, to the oyster spawns and their eventual transfer to sea-based facilities over three years. An immutable (hashed) record of the data is stored on blockchain so it can be securely and easily shared with third parties (e.g., the regulator, customers) as well as independently verified. The data can be accessed by simply scanning a QR code (no blockchain knowledge is required from third parties).  
Ostrea will leverage the traceability and transparency provided by SeafoodChain's Digital Product Passport to showcase their oysters' superior quality, origin, provenance, and the company's history and workforce to customers. In addition, Ostrea aims to receive direct feedback from its consumers who have consumed and enjoyed their delicious oysters.  
'UNISOT's SeafoodChain solution provides a comprehensive and transparent way to track and manage our oyster cultivation process, ensuring that we maintain the highest quality standards and comply with regulatory requirements. The SeafoodChain Digital Product Passport allows us to share our oysters' story, from the pristine waters of Koster Island to our customers' tables, building trust and showcasing our commitment to sustainable aquaculture practices. By leveraging UNISOT's technology, we can strengthen our connection with consumers, receive valuable feedback, and ultimately drive sales through proven product quality, origin and provenance.' – Christian Vorbeck, Managing Director at Ostrea Aquaculture AB
As a result of this deepened customer engagement and the ability to verify their product's superior quality and origin, Ostrea anticipates a considerable uptick in sales. By leveraging UNISOT's solutions to connect with customers and demonstrate their commitment to the highest standards of quality and sustainability, Ostrea can position itself as the premium supplier of exceptional oysters on the market.